TRY MONA FOR FREE
Upload Your Data Directly to Gain Access to Free Automatic Exploratory Analysis
Let Mona automate the analysis of your multivariate dataset, eliminating the need for manual data cleaning, transformation and visualization, reducing the time it takes to gain accurate insights to make better informed decisions. Mona finds for you the specific data segments that behave anomalously, points you to the root cause, and provides possible explanations in the data. It's as simple as uploading a CSV file and filling out a short form. Have Mona provide you with more accurate and reliable insights today!
Sign up using the form below to get instant access to Mona's automated exploratory data analysis tool.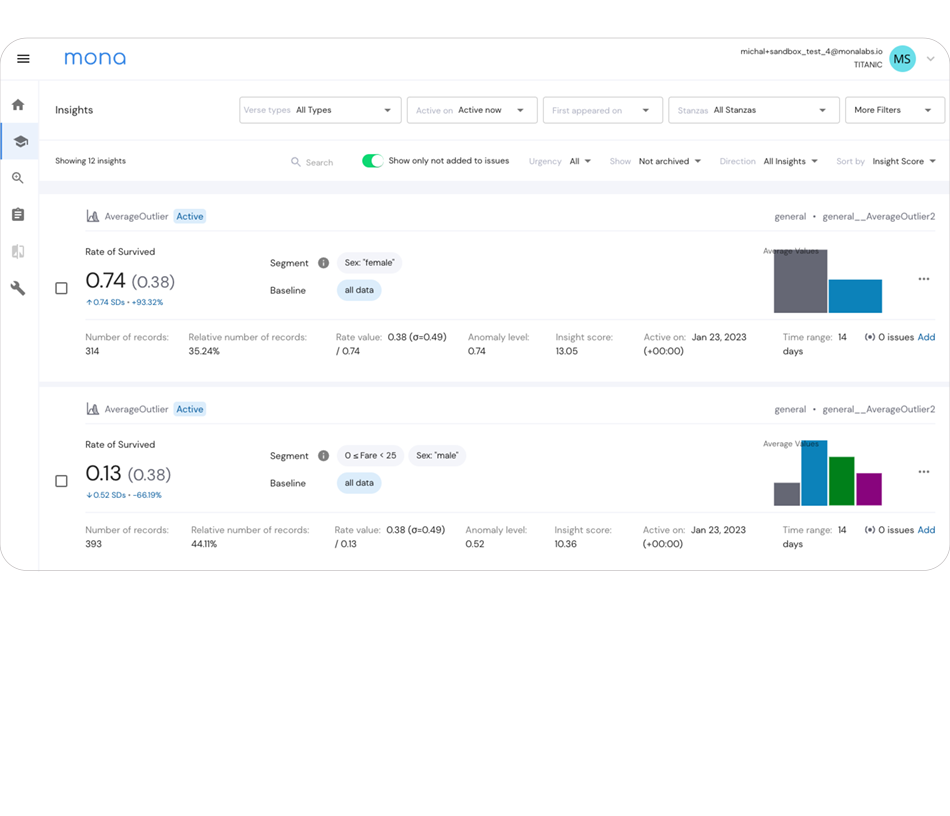 VIDEO
Watch Mona's Tutorial Video
KEY FEATURES
Mona's Automated Exploratory Data Analysis Tool
Granular Anomaly Detection
Mona exhaustively searches, finds and surfaces specific outlier segments within the multi-dimensional datasets.
Intelligent, Noise Free Insights
Mona correlates the behavior of different metrics to provide possible explanations for the outlier behavior and other symptoms of the detected issue to minimize alert fatigue and noise.
Easy-to-Use with Any Dataset
Mona is designed to be user-friendly and intuitive, making it easier for technical and non-technical users. Start by simply uploading a CSV.
AUTOMATION
Save Time and Effort
Avoid time consuming manual processes to identify and troubleshoot any problematic issues, minimizing the risk of human error by automating the analysis of your multi-dimensional datasets. After Mona has analyzed your multivariate dataset, insights will appear within minutes on Mona's user-friendly dashboard.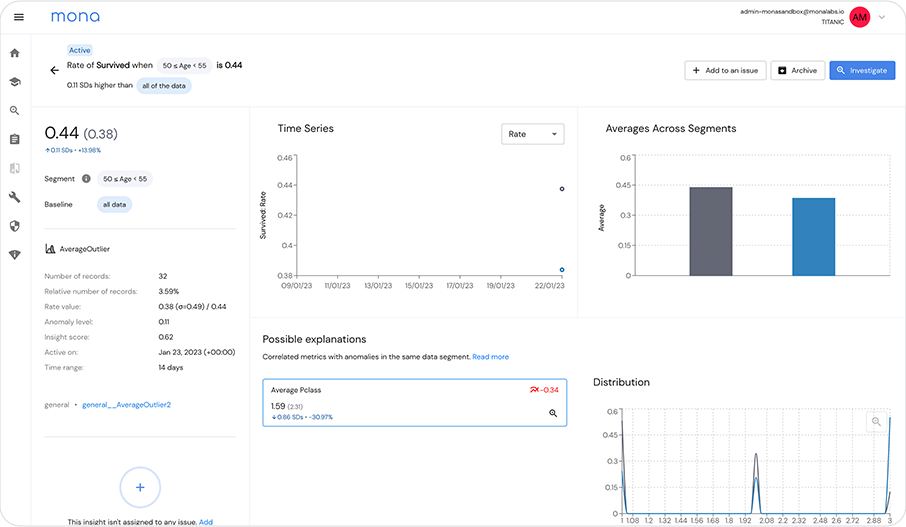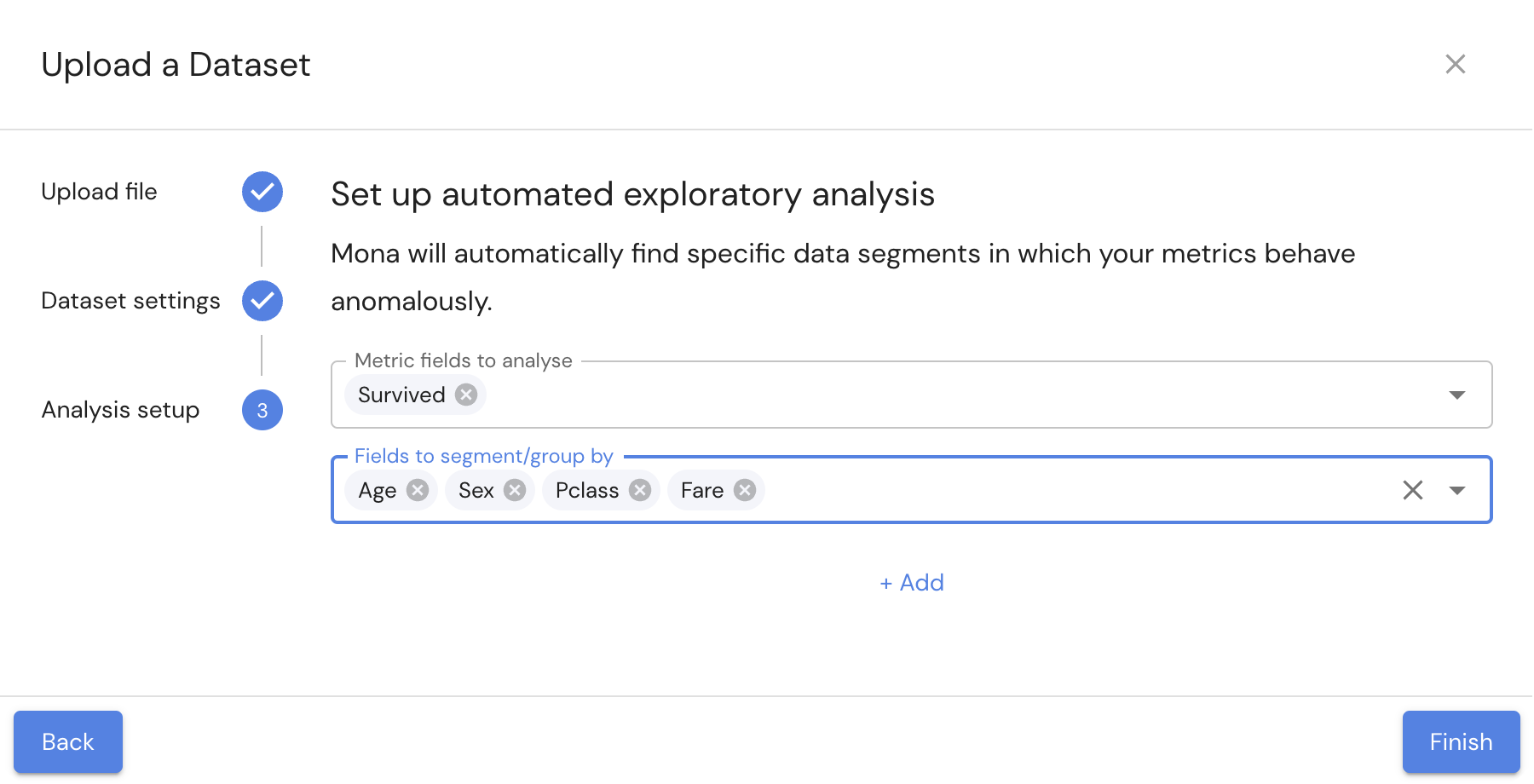 INTELLIGENCE
Gain More Insight from Exploratory Data Analysis
Mona's powerful analytical engine will instantly analyze your data to find correlations between variables, surfacing any anomalies from specific segments of the multivariate dataset.
VISUALIZATION
Instant Data Visualization and Exploration
Mona's dashboard provides interactive and dynamic visualizations, enabling users to explore and identify patterns in their data more effectively. If an outlier segment is detected, Mona will automatically send you an email notification of the anomaly in which you will be able to easily explore and troubleshoot the root-cause segment.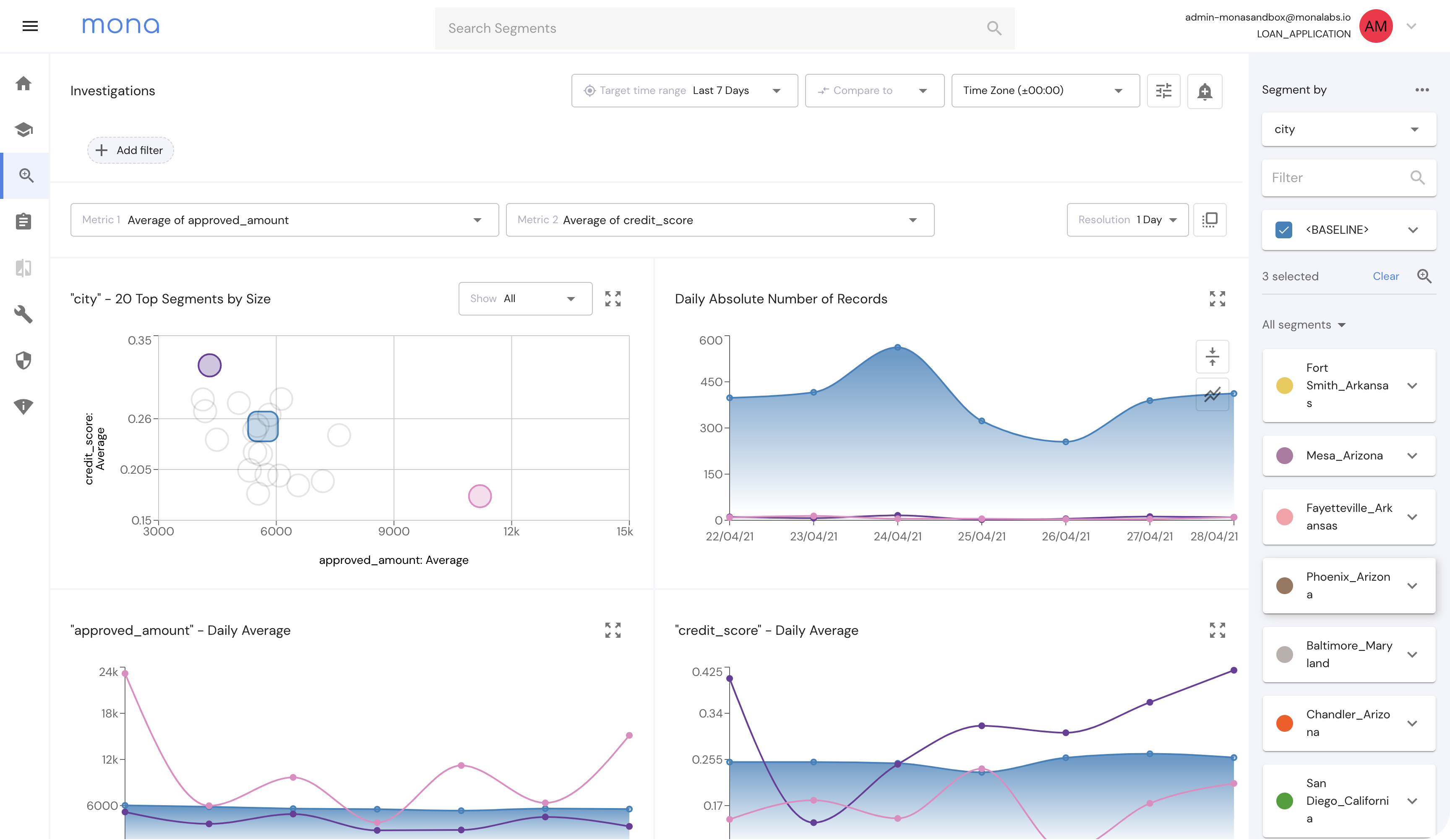 COMPANY
About Mona
From extensive experience working on large data programs at Google and McKinsey & Co, our founders recognized the need for an efficient solution to automatically detect and investigate inconsistencies within data.

Our mission is to empower businesses with the insights they need to make better-informed decisions, optimize their processes, and save valuable resources. We have come together, a team of experienced engineers, researchers, and operators, to develop a solution to easily surface problematic segments within multivariate datasets.
Mona is backed by top VCs with offices in Atlanta, Georgia and Tel Aviv, Israel.
CUSTOMER QUOTES
Hear why our customers love us
We were impressed by the level of commitment, the level of the professionality and the maturity of the technology, which were the most important things that we needed.
With Mona, we are able to proactively identify issues in production before our customers are negatively impacted.
Try our automated exploratory analysis tool today!