Check out our new interactive demo
We are pleased to showcase our new interactive demo environment, which allows you to explore Mona's ML monitoring dashboard and capabilities, free of charge and with 0 work! Mona's mission has always been to make AI reliable and impactful, and we're very excited to show data science teams the true value that Mona can bring to their day to day activities. We have built this interactive demo understanding that there are users out there that would prefer to try our platform for themselves, and this will allow you to do so without having to upload any data.
How does it work?
Upon sign up, you are provided with access to a sandbox environment that utilizes a preloaded dataset representing runs of a creditworthiness model for short-term loans. Once logged into Mona's dashboard, you can take a guided tour of our platform, walking you through the types of insights that Mona provides. As you navigate through the different pages, the tour provides you with the option to have a complete deep dive of the page or you can explore on your own. We recommend going through all the steps of the tour to fully understand what Mona is capable of. You can also contact us for any questions you have as you explore!
What you should expect to see
Here at Mona, we want all data scientists and machine learning engineers to have a positive experience using our monitoring platform. We pride ourselves on being the most intelligent and the most flexible monitoring solution available. Mona's analytical engine provides a granular assessment of data and model behavior. We call out anomalies in hidden pockets, enabling you to address those before the entire dataset (or business outcomes) are negatively impacted. Insights are automatically provided about drifts, outliers, time series anomalies, threshold crossing and other rule based validations. Within Mona's dashboard, there is an investigative workflow that is used for data exploration, report creation, root causes analysis, and hypothesis testing that is tailored to the creditworthiness example model.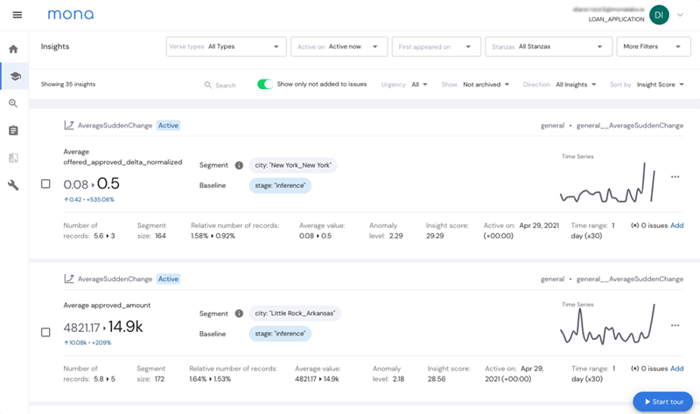 While the interactive demo focuses on a creditworthiness model, Mona is capable of monitoring other use cases within machine learning as well as NLP / NLU, chatbots, computer vision, speech / audio based AI, and intelligent automations. Take advantage of this opportunity and see for yourself why AI teams at companies such as Fiverr, Gong, and the Israeli Ministry of Defense are using Mona by checking out our interactive demo! Sign up here.