Mona launches free, self-service monitoring solution for GPT-based applications
In the rapidly evolving landscape of AI, staying ahead of the curve is crucial for data scientists and engineers. With the increasing adoption of large language models (LLMs) such as OpenAI's GPT, monitoring the performance, quality and efficiency of the applications that leverage these models has become crucial for businesses. As a leader in intelligent monitoring solutions for AI, we have leveraged our industry expertise and existing platform to develop a monitoring solution specifically tailored for GPT-based products, enabling teams to optimize the performance of their applications and improve their usage of LLMs over time.

Gaining immense popularity, GPT models have already been changing businesses due to their ability to generate content, enable conversational search engines, create structured data from unstructured text, and many, many other uses. However, integrating these models into production applications can pose challenges related to cost management, quality control, and over-time performance degradation. Our new GPT monitoring solution addresses these challenges by providing granular visibility into GPT-based applications, allowing teams to detect and troubleshoot issues early before they significantly impact business outcomes.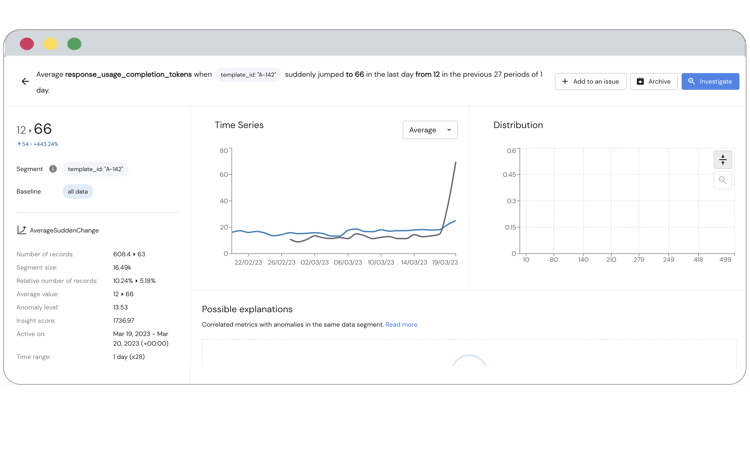 For the first time ever, we are making our comprehensive AI monitoring available as a free offering to provide several key benefits for product teams working with GPT-based applications:
Mitigate operational risks: With complete visibility into the performance of GPT products, get alerts on issues early before they escalate. Automatically surface behavior outliers, hallucinations, privacy concerns and low quality prompts.
Optimize API and token usage: Use Mona to identify areas of surprisingly high or rising token usage, enabling teams to reduce and optimize costs.
Seamless integration: Mona works out of the box for GPT models whether you use OpenAI's API directly or via Azure's services, as well as when using an LLM management interface such as LangChain.
Mona's new GPT monitoring solution is already being utilized by customers such as Hyro.ai, who is creating conversational AI solutions for the healthcare industry. Hyro has deployed Mona to track metrics including token usage, privacy-related metrics, and prompt/response quality to optimize the performance of their LLM-based applications.
Watch Mona's 3 minute tutorial video
By leveraging Mona's free, self-service offering, teams can proactively identify and address issues, optimize costs, and gain valuable insights to enhance their GPT-based application. Anybody can start using Mona immediately by simply wrapping OpenAI's API calls with just two lines of code. Get started now by creating a free account: https://www.monalabs.io/openai-gpt-integration.