Mona expands monitoring capabilities for intelligent automation processes
Mona is happy to announce the expansion of use cases supported by the intelligent monitoring platform for AI / ML to include Robotic Process Automation ("RPA") workflows. Currently providing customers across 8 different industries with actionable insights into their AI systems, Mona excels at providing complete process visibility, detecting issues within specific segments of data. As a highly extensible platform for many use cases including machine learning, NLU/NLP, speech recognition, and vision, the extension to support intelligent automations and RPA is seamless.
"Our proven success in monitoring a wide variety of AI-driven business processes has enabled us to easily extend our product capabilities to successfully and efficiently monitor non-AI-based automations, such as RPA-based processes," said Itai Bar-Sinai, CPO and co-founder of Mona.
By automatically surfacing production issues within automations and data-driven workflows, Mona helps companies reduce business risk and accelerates time to resolution. Enabling reliable improvements to automated processes, Mona automatically isolates issues with specific groups of bots, queues, etc. to find the "needle in the haystack" and provides possible explanations to enable reliable improvements. Mona also provides a powerful, intuitive user configuration that allows teams to track custom metrics that they care most about and monitor it within their Mona dashboard.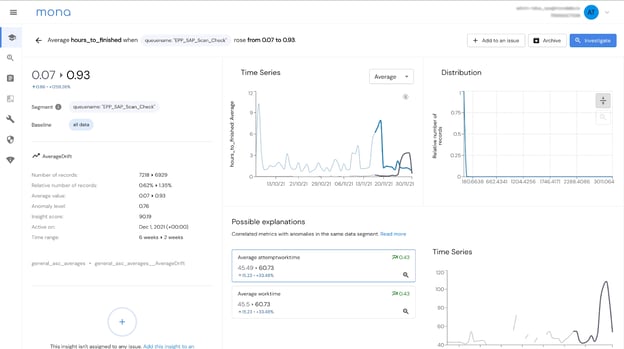 Mona automatically detects a significant spike in the time of completion for a specific automated process type, which could cause substantial resource loss if it is not fixed
"Mona has been instrumental in helping us elevate our digital solutions and improve customer experiences. With the ability to sift through our RPA transactional data, we are able to identify actionable insights that wouldn't be easy to spot otherwise. We were introduced to Mona as one of our TELUS Ventures portfolio companies, and we are excited to continue building our relationship with them, now as a customer," said Scott Holynaty, Process Digitization and Automation Team Lead, TELUS.
With this new product offering, TELUS, a world-leading communications technology company, joins Mona as a new customer. With a focus on providing the best digital solutions to enhance customer experience, TELUS will use these automations to improve throughput of their business. Mona's monitoring solution will allow TELUS to instantly detect and modify their automation processes, with RPA developers and project managers receiving alerts when there are changes in their processes completion-rate, exception types, process durations, and more.
"We are extremely excited to have TELUS as our new customer," said Yotam Oren, CEO & co-founder of Mona. "This confirms the criticality of monitoring data-driven processes across all organizations to have that continuous feedback in order to maintain and optimize automations."
Mona is now offering an all-in-one monitoring solution for automated workflows, enabling businesses to:
Reduce time to issue resolution by gaining complete visibility into intelligent automation processes with possible explanations on how to resolve automation failures
Proactively detect issues with automations, resolving them before they negatively impact your business and customers
Reduce operational risks by quickly resolving performance issues, resulting in better automation completion rates
As an interoperable solution, Mona is able to easily integrate into existing automation platforms (e.g., UiPath, Blue Prism, Automation Anywhere) and is compatible with any intelligent automation use case (e.g., RPA, chatbots and voicebots).
Book a demo or contact us today to learn more about how you can optimize your intelligent automations with Mona's highly configurable monitoring solution.